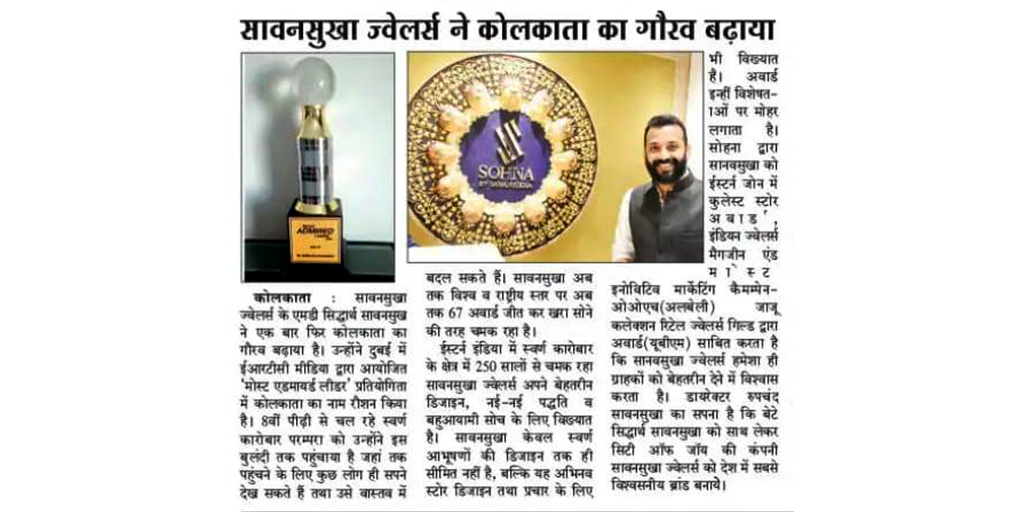 Samagya covers Sawansukha Jewellers
Article date:5th November 2018
Publication House: Samagya
Sawansukha Jewellers, one of the leading jewellery house in Eastern India with a reigning history of over 250 years has always believed in exclusivity and this is reflected in designs of the jewellery to the aesthetics of the stores and the outdoor hoardings that conveys to the consumers our stories speaking about our collection.
Sawansukha Jewellers has introduced special collection this Diwali for all its patrons in both contemporary and unconventional designs that will leave you spellbound.
Shri. Rupchand Sawansukha, Director of Sawansukha Jewellers has dreams of making it big on a larger international arena and to scale his dreams to heights, his son Mr. Siddharthaa Sawansukha, MD of Sawansukha Jewellers has paved way for the same.
With the sole motto "We Live for Jewellery" Sawansukha Jewellers is all set to take the center-stage.