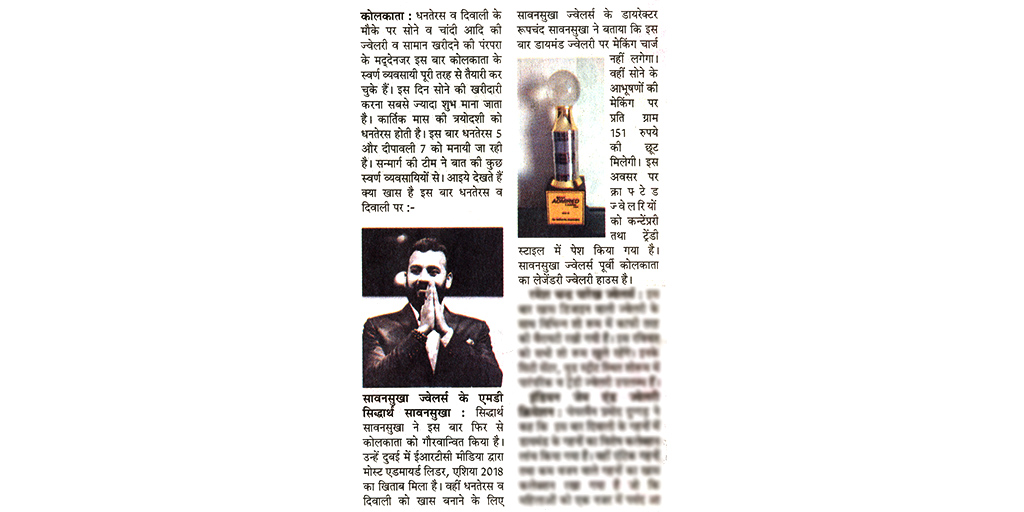 News Article
Coverage date : 4th November2018
Publication House: Sanmarg
This Dhanteras Sawansukha Jewellers had in store an offer for everyone so that consumers can avail the maximum benefits. With an eclectic collection in diamond and gold jewellery especially crafted for the festival season, there was an equally captivating offer. With 0 making charges on diamond jewellery and flat Rs 151/- per gram on gold jewellery, Sawansukha Jewellers intended to celebrate the festivity in style.
Mr. Siddharthaa Sawansukha, MD of Sawansukha Jewellers who recently won Most Admired Leader Asia 2018 in Dubai quoted, "Diwali is one of the most sought after festival and Dhanteras being the auspicious day , we wanted to make it memorable for everyone."
Consumers had an array of beguiling  diamond, gold and jadau collection to choose from and Sawansukha Jewellers ensured there was something for all age brackets.