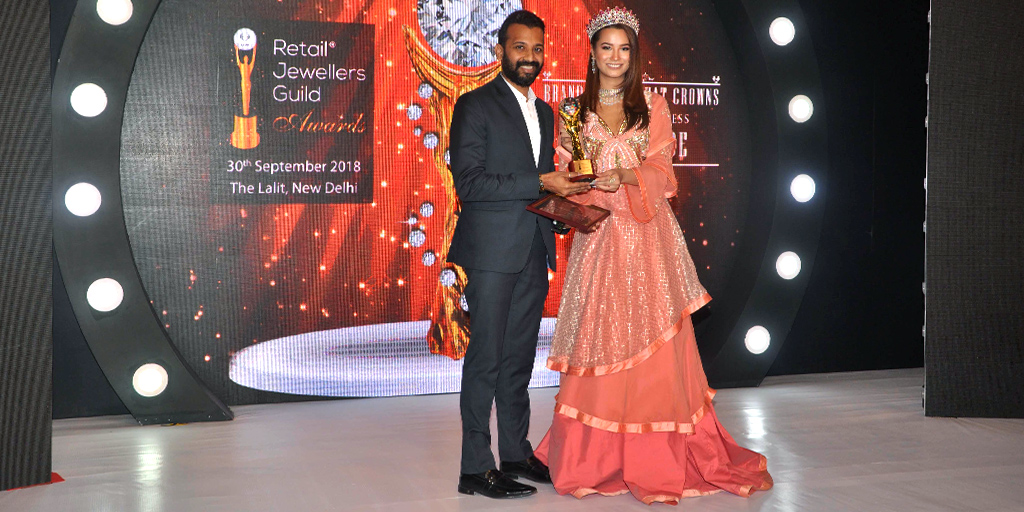 Sawansukha Jewellers high on success with its innovative propositions
Kolkata, 01st October, 2018: Yet again Sawansukha Jewellers with its unconventional means bags "Most Innovative Marketing Campaign- OOH Award" at Retail Jewellers Guild Award, A UBM Event. Sawansukha Jewellers has always believed in doing things with an edge of style and difference. The content of campaign was Albeli, the Jadau Collection. The award night was held at Hotel Lalit, New Delhi, in the presence of top jewellers from pan India. The award was held to give recognition to the talent, contribution and innovation that jewellery retailers have showcased in their designs.
Mr. Siddharthaa Sawansukha, MD of Sawansukha Jewellers was present to receive the award. The concept of Albeli is brain child of Mr. Sawansukha as he believes break in tradition rules the roost. Just like our jewellery with unmatched design and concepts our campaigns are based on unconventionality. Every campaign carries a strong message that will definitely incline one to stop and spot the quirkiness. The art of Jadau has emerged from the land of Rajasthan and to pay tribute to the craftsman for their brilliant artistry and add a dash of tribal beauty, the campaign was designed.
Siddharthaa was humbled to receive this recognition as he went out of the way to get this campaign designed and convert the dream into reality. He said, "When every jeweler speaks about their dazzling jewellery, we decided to give an upper edge to the dazzling women as she is the real reason behind these creations. She truly breathes life into these crafted beauties irrespective of her appearance or skin tone."